Heippa kaikki ja hauskaa kesälomaa niille, joilla se alkoi! Otin itseäni niskasta kiinni ja päätin päivittää ennen kuin lähden tallille.
Viime lauantaina juhlittiin äidin kummitytön lakkiaisia ja olin toki varustautunut kesäisellä mekolla ja suunnitelmat hiuksillekin oli hyvät, kunnes aamu valkeni +9 asteessa ja järjettömässä kaatosateessa. :D No, ei se mitään, onneksi sisätiloihin pääsee aina.
Dress
VILA
Jewelry
H&M & GT
(Haha, tajusin vasta kuvissa että toi mekko saa mut näyttää siltä, että hankin silikonit... :DD/ Okay that dress makes me look like I have silicones, didn't even realise that before I saw these pics.)
Ostin uudet harmaat piilarit Donkista, kun vanhat alkoi kaikki tuntua ikäviltä silmissä. Kiharsin myös oman tukan pitkästä aikaa ja ylläri kyllä, kiharat pysyi kosteudesta huolimatta ihan hyvinä. Asiaan toki saattaa vaikuttaa se kilo lakkaa minkä niihin suihkutin.
Illalla näin Tyttiä pitkästä aikaa ja juhlittiin valmistujaisia kera kuohuviinin. Pyörähdettiin myös Vegasiin ja pilkun jälkeen kiltisti kotiin nukkumaan. Vanhuus ei tule yksin, olin koko sunnuntain ihan naatti, enkä jaksanut kuin raahata itseni väkipakolla tallille.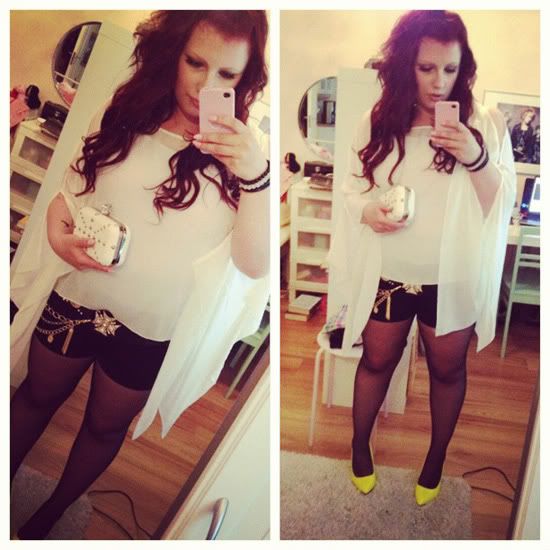 Shirt GT
Shorts H&M
Pumps Dinsko
Belt d.i.a
Clutch GT
w/ Tytti. ♥ Haha, oon niin lyhyt kaikkien mun kavereiden vieressä. Paras on kyllä Niina, joka on melkein 20cm mua pidempi.
En oo ostellut mitään kummempaa, koska tosiaan yritän säästää rahaa Japaniin. Parit korut kuitenkin hankin kesäksi.
Necklace GT | Bracelet H&M
Earrings
H&M & ebay
Last Satuday my mom's godchild graduated from high school so we had a little party. The weather was horrible, it was raining like crazy! Ofcourse I had some great plans for my hair & outfit and usully rain ruins my hair right after I get out. Luckily we didn't have to spend that much time outside, so umbrella + tons of hairspay worked and my hair looked actually pretty nice.

Later I went to Tytti's to celebrate her graduation as well! We drank some sparkling wine and went to Vegas (nightclub). I really liked my outfit, finally had a chance to wear some d.i.a. ♥

I've been trying to avoid shopping and save money to Japan, but still I bought some accessories for summer.