Moikka kaikille! Oon ollut paska bloggaaja ja keksinyt joka päivä jotain muuta tekemistä paitsi blogin päivittämistä. No ei kai, oikeesti oon ollut töiden jälkeen vaan tosi väsynyt ja juhannuksen vietin dataamatta.
Jos joku muistaa vielä
postauksen
, jossa esittelin mun suosikki asusteita, niin tässä olisi seuraava samaan kategoriaan, mutta vain meikeistä tällä kertaa. Normaaleina päivinä en käytä meikkiä, ainoastaan kun oon menossa jonnekin. Ei niin, ettenkö jaksais meikata, mutta en koe sitä mitenkään tarpeelliseksi tällaisessa työssä, missä olen. Mammoja ja pappoja ei kiinnosta, onko mulla ripsiväriä vai ei, kun menen keittämään puuroa ja antamaan lääkkeitä.
Mut joo, aloitetaan.
BB boomer (primer)
Missha |
Primer
Too Faced |
BB magic Cream
Etude House
Powder
NYX |
Eyebrow kit
Canmake |
Eyebrow pen
Dolly Wink |
Highlighters
Canmake |
Under eye brightner
Missha
Eyeshadow base
Too Faced |
Glitter eyeshadows
NYX |
Eyeshadows
GT & alpha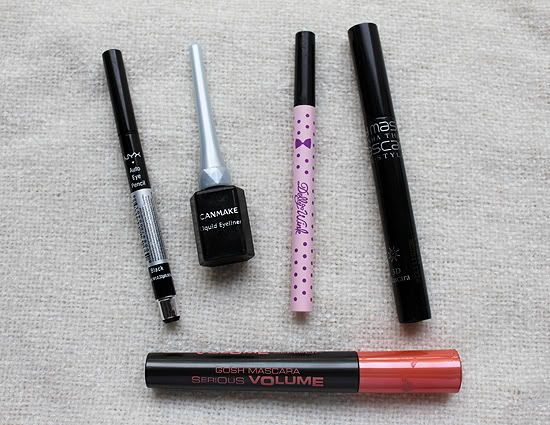 Eye pencil
NYX |
Eyeliners
Canmake & Dolly Wink |
Mascaras
GOSH & Missha
Eyebrow coat
Canmake |
Blush
Too Faced |
Lashglue
Diamond lash |
Lipgloss
Too Faced
Diamond lash
(Don't know the name of these lashes, but they're my fav lashes ever) |
Decorative eyelash
Play Sexy #3 |
Diamond lash
Sexy Eyes |
Decorative eyelash
Play Cool #3 |
Diamond lash
Charming eyes
Do you still remember this post about my fav accessories? This time I'll introduce my fav makeup products for you.