XtraVaganza series
Pink (two tones)
Power/ prescription:
0.00 (plano) to -10.00
Lens usage:
Up to 1 year
Shelf life:
3 years
Origin:
South Korea
Materials:
2Hema
B.C.:
8.6mm
Diameter:
14.50mm to 15.00mm
Water content:
38%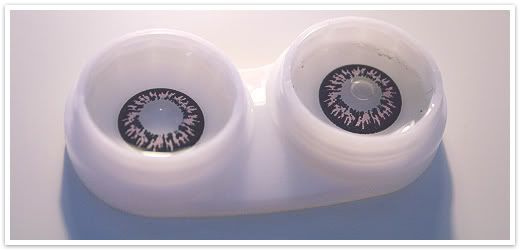 Olen tosi pitkään miettinyt pinkkien piilareiden hankkimista, mutta oon arkaillut ja odotellut - no, nyt odotus palkittiin ja sain sellaiset kokeiltavikseni. Purkissa se näytti jo tosi kivoilta, koska pinkkiä oli suhteessa tarpeeksi vähän ja se on enemmänkin sellaista söpöä baby pinkkiä kuin kovin kirkasta. Odotukset oli korkealla näiden suhteen!
Lopputulos olikin sitten hiukan pettymys. Omien silmien väri jää näkyviin tuosta keskeltä ja pinkki oli sen verran vaaleaa, ettei se erotu sinisten silmien kanssa. Muuten kyllä piilarit näyttivät kivoilta ja suurensivat silmää just sopivasti. Väri vaan oli pettymys, sarja itsessään on mun mielestä supersiisti, kun oon katsonut muiden tekemiä previewejä muista väreistä! Joten mikäli olet ostamassa, kannattaa ostaa omaa väriä lähellä oleva väri, niin näyttävät hiukan luonnollisemmilta. :D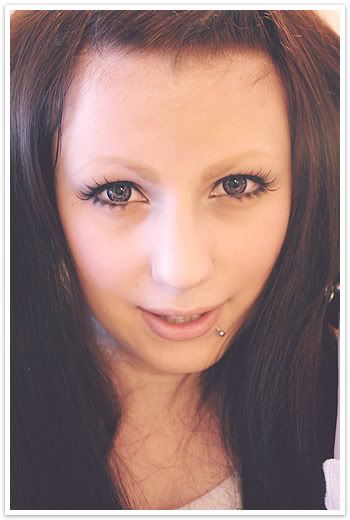 Kauempaa katsottuna nuo on kyllä söpöt ja se väri jopa hiukan erottuukin! Ainoastaan tuo keskelle jäävä rako piilarin ja pupillin välissä hiukan häiritsee.
Ainoa miinus tulee liian vaaleasta väristä suhteessa omaan silmään, mikä tekee piilareista hiukan oudon näköiset.
Mukavuus/Comfort; ★★★★☆
Ehdottomasti mukavat silmässä ja helppo laittaa paikoilleen. Ainoa miinus tulee siitä, ettei piilari tuntunut oikein pysyvän paikoillaan kunnolla ja sitä piti siirrellä edes takas.
Suurentava vaikutus/Enlarging effect; ★★★★
☆

Suurentavat just sopivasti ja vielä paremmalta se efekti näyttää, jos väri on lähellä omaa väriä.

Tilaa omasi tästä



Due to being over stocked... All GEO 15mm Lenses are $22 a pair!
Don't miss your chance ★

All GEO and EOS lenses for $26 AUD / $24 USD a pair
All GEO 15mm Lenses are $20 a pair!
All FunkyEyes Lenses are $30 a pair!

Free lenses case with every pair!


Receive freebies on your next purchase!
Purchaise 3 pairs
- receive a free pretty lens case
Purchaise 4 pairs
- receive a 5$ coupon
Purchaise 5 pairs or more
- receive a free pair of lenses